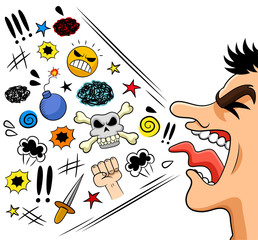 "I tell you, on the day of judgment people will give account for every careless word they speak,  for by your words you will be justified, and by your words you will be condemned." Matthew 12:36-37 ESV
The context of this verse is astounding. Jesus had just healed a blind man. Wow! Jesus just willed for the man to be healed and he could see. This was not the first time that Jesus did the impossible. Jesus healed the sick, cast out demons, gave sight to the blind, made the deaf hear, the mute speak, restore a man's limb, and confounded the wise. Yet in spite of all of this amazing evidence that He is Israel's long awaited Messiah, the leading Jews refused to believe. Instead, the religious leaders said that he did this by the power of demons. The hatred in their hearts only festered. They not only did not want to believe in Jesus, they did not want anyone to believe in Him. Jesus' response shows the absurdity of their statement in Matthew 12.
Demons can't cast out other demons, Only God can (Matthew 12:25-32).
Good works come from good people. Bad works come from bad people (12:33-37).
It is from this last argument that we get our verse. Jesus did plenty of good works and only said what was right. The religious leaders on the other hand, oppressed the poor, widows, sick, and week. They also did not want people to believe in Jesus so they would lose their power. It is no wonder why Jesus called them a "brood of vipers" (12:34). What the religious leaders said came out of their own natures. They were evil and their words were enough to condemn them.
This principle can be brought into our day and age. If the religious leaders in Jesus day were condemned by their words, how much more us. Cursing has become everyday language for adults, teens, and even children. People use the Lord's name in vain without thinking of it. They carelessly use God's holy name as a filthy word. They also do this to Jesus' name. In the factory where I work, I cannot go one minute without someone either using profanity or dragging God's name through the mud.
If out of our mouths comes what is in our heart, then almost everyone hates God and everyone else in the world. God is not going to hold us guiltless. He is coming to judge every one of us and the words we speak. We justly deserve to go to Hell and we can do nothing to appease His wrath. Thankfully God sent Jesus, who was fully God and fully man, to live a perfect life, die on the cross to pay our fine, and rise from the dead to give us new life. If you turn from your sin to God in repentance and trust in what Jesus did on the cross, you will be saved. God will change your heart of cursing to a heart of praise. God will give you the Holy Spirit to assure you of your salvation and change your heart. Please Come to Him today.
I hope that this has blessed you. Please feel free to comment in the comment section, share this post to your friends who need it, or like it. If you want to contact me, you can contact me at josiah.rob.nichols@gmail.com with any question you want. Also please feel free to look at the resource page to look at The Using Hermeneutics Series. Lord bless you.